Discussion Starter
·
#1
·
<h1 style="font-weight: normal; font-family: Tahoma, Geneva, sans-serif; font-size: 16px; line-height: 20px; color: rgb68, 68, 68; ">This infomation was taken from
http://www.carnaubawaxshop.co.uk/index.php
is a handy guide on how to apply wax/sealant</h1><h1 style="font-weight: normal; font-family: Tahoma, Geneva, sans-serif; font-size: 16px; line-height: 20px; color: rgb68, 68, 68; ">
</h1><h1 style="font-weight: normal; font-family: Tahoma, Geneva, sans-serif; font-size: 16px; line-height: 20px; color: rgb68, 68, 68; ">What follows is a guide on how to apply a carnauba wax paste wax. The techniques will apply to just about any paste wax. Remember that wax or sealants are known as LSP (Last Stage Protection)</h1>
First make sure your paintwork is well prepared, ultimately the finish will only be as good as your preparation. The wax is the last stage of the process so read the other guides on washing, claying, polishing and cleaning before waxing.
You can apply wax by using an applicator, your hands, or microfibre cloth, or if you have one, a machine such as Porter Cable 7424. I personally like a foam applicator as you can achieve a much thinner layer, but by using your hands you can feel the paint work more
Why is a thin layer important?
When using waxes (and sealants) less is more. When you apply, you want to use as little product as possible and spread it out as far as possible. A thin layer will cure more evenly and faster, which in turn will mean the wax resisdue will be far easier to remove. You will also waste less product as any residue is just wasted product wiped from the car and left in the microfibre towel.Waxing by using an applicator.
This is a good method to use, it allows you to get a very thin layer of wax and even coverage. Remember thin is good!
I'm using a
Foam Finger
applicator here. These applicators are lovely and soft, plus very comfortable to use.
Moisten the applicator with either some quick detailer or some water. This will provide a little lubrication for the applicator, you don't want it dripping wet, just damp.
Prime the applicator by rubbing it around the top of the jar a few times. On softer waxes, like
Dodo Rain Forest Rub
, only a couple of rubs will be needed. On harder wax like the
RB Original
that I am using here, you will need to rub a bit harder or even rub your bare fingers around the wax in the jar first to start it off.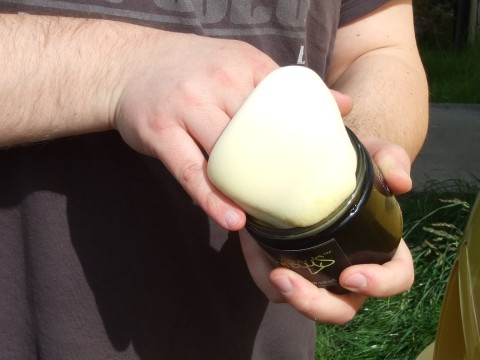 Once you have a little wax loaded onto your applicator, apply to the paintwork using small circlular actions (or straight lines if you are more comfortable doing it that way) to work the wax into the paint. Make sure you cover the whole area evenly and be very careful to apply a thin layer. I'm sure I already mentioned this!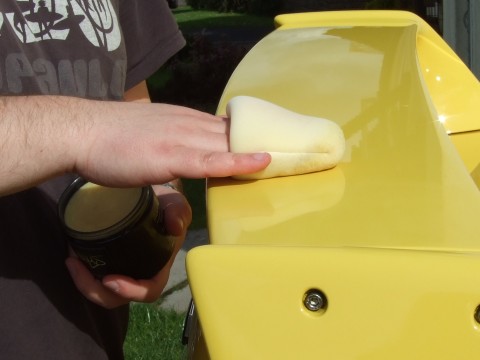 When the applicator starts to drag and it doesn't feel there is any wax left to spread, return the applicator to the jar and twist a couple of times to reload the applicator. Continue as above until the section is covered.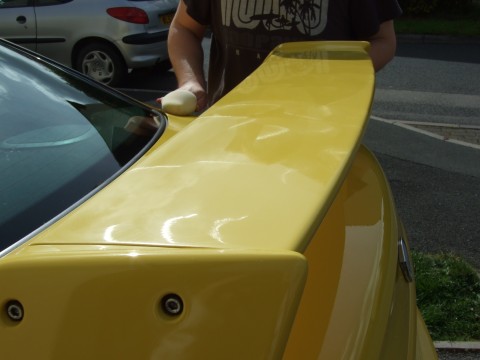 Apply using your hands.
This can be a very therapeutic way to apply wax, but it does tend to use more wax. Make sure you remove all metal work from your hands and wrists, rings, watches etc.
Take a small quantity of wax from the pot and place it in the palm of your hand.
Massage the wax into the palm of your hand, to get the oils flowing, and then rub your hands together and make sure there is thin coating all over your hands.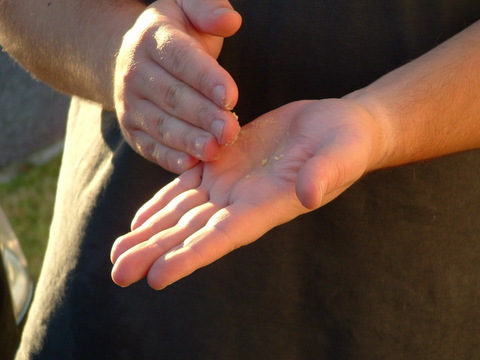 Next massage the wax into your clean and freshly polished paintwork, make sure you cover all the areas, but also be very careful you spread it very thinly. Too much wax will be hard to buff off and may leave wax holograms.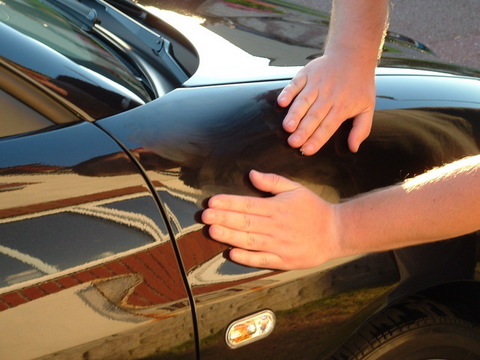 Cover the whole area carefully, oh and did I mention, make sure you spread it very thinly!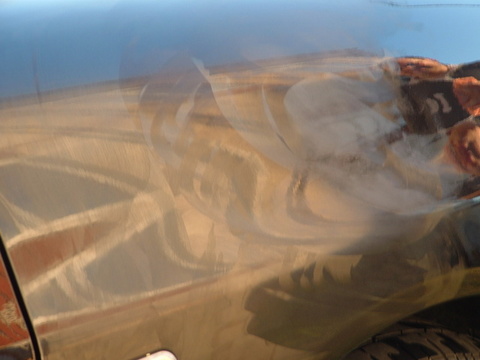 Curing.
When the panel is completely covered, move onto the next, you need to leave the wax some time to cure and bond to the paint. Depending on the wax this usually takes between a couple and 15 minutes, read the instructions for the wax you are using. If the weather is particlurly hot or you are in direct sunlight, you may need to buff off sooner.
In the case of the RB Original Edition I have used here, the wax was applied to the whole car and left for around 20 minutes.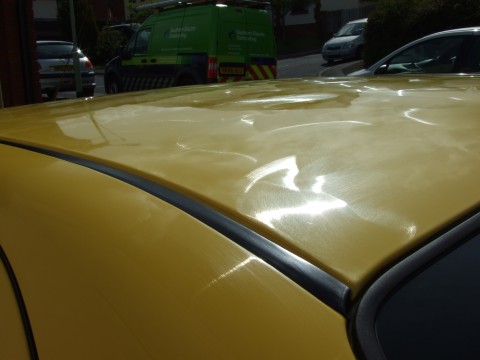 Removing the wax.
Using a nice soft, microfibre cloth remove the excess wax. If you have applied a nice thin layer and the wax is ready to be removed, it will come off easily in one or two wipes. With some waxes it can be good to use a slightly shorter pile microfibre towel to break up the wax and then a deeper piled towel to buff to a shine. The towel I am using here is one of my
Marvel Scratchless Buffing Towels
which have a double sided surface (shorter pile on one side, plusher pile on the other). If wax is not coming off easily then you may have applied too much product or not left it long enough.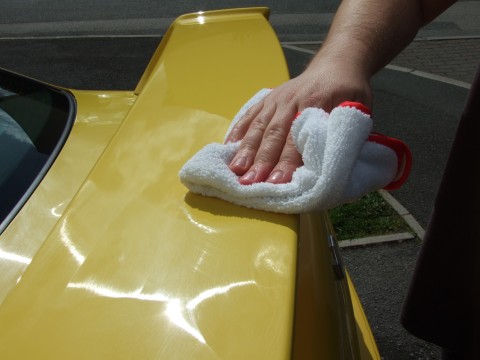 Once all the excess wax has been removed turn your cloth over and buff the paintwork to a high gloss finish.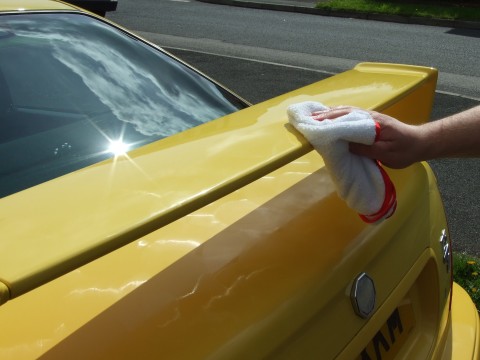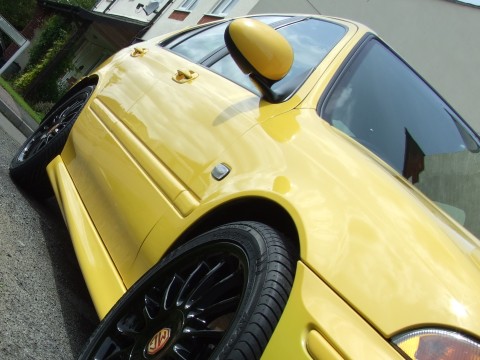 You can apply another layer to make the finish even more durable, if required. I would recommend leaving at least 2 hours between coats, preferably 24 hours, to ensure the first coat has fully cured.